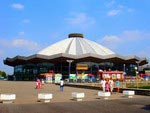 source: fotki.yandex.ru
The Great Moscow State Circus is one of the main sights in Moscow. Nowadays it is the largest stationary circus and can seat up to 3400 people. Its history is quite short, because it is "just" 40 years old. When the oldest Moscow circus on Tsvetnoy Boulevard was under reconstruction (1985-1989) the Moscow State Circus was the only circus in Moscow. Over its history the Great Circus has performed more than 100 striking and stirring shows, has gone on tours to 20 countries of the world, has trained eminent artists of various circus genres.

Today the circus staff consists of clowns, equilibrists, animal trainers, magicians as well as directors, ballet masters, musicians and many others. Most of them are honored artists of Russia. Constantly renewed circus shows are sold out for every performance.

It is worth to mention that circus building has 5 arenas: equestrian, water, illusionist, ice rink, and light-effect, which can be swapped during the performance. The arena swap gear is really enormous. On the depth of 18 meters below the floor there is the engine room to control arenas: one arena goes down and moves aside, instead of it another arena moves out and rises up. This is the unique gear in the world.

The Great Moscow Circus always amazes, surprises, fascinates and makes laugh its spectator with striking and original shows. It is the unique opportunity to get acquainted with Russian circus traditions.