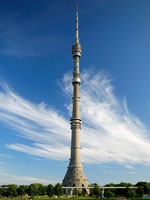 In 1967 this tower was the tallest free-standing steel structure in the world. But the architecture development is progressing and today the Ostankino tower, standing 540 meters tall, the fourth-tallest tower in the world, after such buildings as Burj Khalifa skyscraper in Dubai, Guangzhou TV tower in China, and the CN TV Tower in Canada.
The construction of the Ostankino TV tower began in 1963 and was completed in 1967. The project was designed by the architect Nikitin during one night. The main idea of the project was that the tower should not have the deep foundation and its strength should be provided by much heavier base. According to Nikitin's words, the reverse lily became a prototype for the tower.
In addition, the use of the prestressed concrete, which was compressed with steel cables, resulted in the sturdy construction. The depth of the foundation was only 4.6 meters, and the base had a ring of 10 pillars with the average diameter of 65 meters. Originally the tower had 533 meters in height, but later, after the installation of a flagpole, it reached the mark of 540 meters. The total mass of the tower is 51 thousand tones.
Inside the tower there is the broadcasting center. There is also an observation platform for visitors, located at a height of 337 meters, and a three-story restaurant the Seventh Heaven located at a height of 328-334 meters. The main feature of the observation platform is the transparent glass floor, which enables you to look into the precipice under your feet, but it is not recommended for people suffering from acrophobia (fear of heights). One of the main features of the restaurant is the revolving floor that enables visitors to enjoy panoramic view during the dinner.
However, the Ostankino tower caught fire at a height of 460 meters on August 27, 2000. The height of fire complicated the firefighting, and firemen succeeded to halt the fire only in the next day. It seemed that tower would not withstand the high temperature, but it proved its sturdiness. Later all fastener system was reconstructed. But the Seventh Heaven restaurant is still closed and the observation platform was put into operation only in March, 2009.
For the whole history of existence, over 10 million people visited the Ostankino television tower and this number constantly increases. It became the favorite place not only for residents and guests of Moscow, but also for admirers of extreme activities who make parachute jumps from the tower. Except aircrafts, the Ostankino Tower is the only opportunity to look at Moscow from a bird's-eye view. And it is worth to be seen!