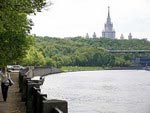 source: narod.ru
Sparrow Hills (Vorobyovy Gory) is one of the main sights in the city, located in south-west part of Moscow. It is a hill on the right bank of the Moskva River. It is considered one of "seven hills of Moscow".
Vorobyovy Gory is an integral part of past, present and future of Russian capital. Once, Tatar-Mongol, Crimean and Polish invaders stayed on this hill, looking at the great view of Moscow and discussed how to conquer this large and rich city.
The name is derived from the Vorobyovo village, which has existed here before. According to historical records, in the late 15th century Princess Sofia bought this village from the orthodox priest, also known as Sparrow (Vorobey). Gradually the village turned into the mansion, and then into the summer residence of tsars.
In the 17th century the Andreevsky monastery was built here. In the 18th century a brick factory and glassworks were erected on the slopes of Sparrow Hills. And the large-scale construction was in the 19th century. It was caused by the development and reconstruction of whole Moscow, which was completely destructed after a heavy fire of 1812 during the Napoleon's invasion. The Cathedral of Christ the Saviour and the "Mamonov Dacha" complex were built that time. In the late 19th century the pipeline was laid and people began to build country cottages in the suburbs of Vorobyovy Gory.
The 20th century was the period of great changes in Moscow. In 1924 Vorobyovy Gory were unofficially renamed into Leninskie Gory (Lenin's Hills) in honor of the great leader of the October Revolution. In the second half of 20th century the world renowned Moscow State University (MSU) was built on the hill. In front of the University there was constructed an observation area, overlooking Moscow. Nowadays this observation platform is a favorite place for representatives of various subcultures and newlyweds. In 1953 the ski jump was constructed here and later subway line was built through the Vorobyovy Gory.
Today Vorobyovy Gory is an entire green zone spreading over from steep bank to the north, opposite to Luzhniki Stadium, to the University campus to the south. The top height of hills is 220 meters, and the steep bank rises 80-100 meters above the river. City administration struggles with various landslides by planting trees on the slopes of Vorobyovy Gory.
Also on the territory of Vorobyovy Gory there is the local wildlife preserve. The preserve houses various animals and birds, which initially have settled Moscow. Various excursions devoted to environmental protection and biodiversity of large cities are held here.