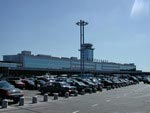 source: domodedovo.ru
Moscow numbers about 15 million people. It is the center of politic, economic and cultural life of Russia. Moscow attracts thousands of tourists and consequently needs good traffic. It is reflected in the air traffic as well: there are 7 airports of various classes and spheres of activity.

History of aviation in Moscow began in 1910, when the first airdrome named after Frunze was built on the Khodynka field. Initially it was intended for test flights and pilots' training. First civil flights started in 1922.

In thirties of the 20th century the volume of air transportation increased. It caused to the construction of three new airports: Bykovo, Tushino and Vnukovo. The Civil aviation was rapidly developed and even new underground line was built to improve communication of Moscow with the airport Bykovo.

During the Great Patriotic War all airports were reequipped for military aims and new bloom of civil aviation in Russia was in fifties of the last century. Appearance of new big passenger aircrafts as well as jet aircrafts resulted in the re-equipment of Moscow airports. Increase of passenger traffic caused to the construction of two new airports: Sheremetyevo and Domodedovo.

For last decade of the 20th century during the post-Soviet crisis the volume of air transportation decreased and airports had a rough time. Afterwards Tushino airport and Khodynka airdrome terminated its activity finally. But in the beginning of new century the economic situation has improved and Moscow airports resumed working in full capacity.

Currently the volume of passenger traffic in Moscow airports is more than half of all transportations in Russia. The largest airport is the Domodedovo International Airport, where over 18 million passengers arrive and depart annually. Sheremetyevo International Airport is the second largest airport with 14 million passengers. Vnukove International airport serves 6 million passengers annually.

These three airports are furnished with state-of-the-art equipment. Amenities include road interchanges, parking bays and well-developed infrastructure. Moreover, terminals are divided into domestic and international flights. For example, Sheremetyevo Airport has two sectors: one for flights within Russia and second one only for international transportation.